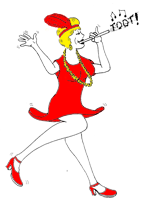 Our Players
---
Bob Lasley - leader, banjo, keyboard, vocals

Joyce Taylor - banjo, vocals

Don Bunce - banjo, vocals

Betty Jean Miller - "gutbucket" bass, percussion, train whistle, dance

Chris Quinn - tuba
Some of our musicians also play in the Peninsula Banjo Band, the Silicon Gulch Jazz Band, and the Los Trancos Woods Community Marching Band.
For information on these and many other fine Bay Area bands, check out Rae Ann's List.

Thanks very much to Susan Weiand for the photographs from our 8/25/11 performance. More Pictures here.